October is a special month for Steve, one of our instructors, as he celebrates 10 years with Outspoken.
A lot can happen in a decade. Steve has experienced 4 Bikeability Delivery Guides, the expansion of government funded training including balance and learn to ride training as well as the joy of helping thousands of children and adults to cycle more.
Steve has kindly put into words his experience of working as a Bikeability instructor for 10 years:
"I have always loved cycling, from racing, to just riding a bike for the sheer pleasure of just being on a bike. I was therefore thrilled to come across a vacancy for a cycle instructor and the opportunity to pass on my love of cycling.
I chose Outspoken Training to begin my instructor journey, primarily because of the people running the company. I had an interview with Kieron and he instantly showed passion and an incredible strength of personality to get more people cycling. I was enthused by what Outspoken wished to achieve and how they wanted the company to support more people to cycle every day. How could anyone not want to be part of that?! I immediately accepted the position.
The initial training was brilliant. I attended a 4-day instructor training course which exceeded my expectations. I underestimated what I would get from the course which entailed more focus on teaching skills and caused me to really think about my own cycling. Whilst learning the syllabus, I recognised that this was a teaching role which focused on imparting enthusiasm, skills and knowledge onto students. I was given techniques and skills to find ways to achieve this and make my delivery fun and enjoyable.
Thinking about the highlights of my time as an instructor, there have been so many. Recently the greatest pleasure has come from working with all the new, fresh out the box instructors, seeing their passion and enthusiasm they bring to the company. I enjoy learning from them and how they communicate new phrases and try new approaches to delivering. It is uplifting to know that so many people, especially children in schools, are going to benefit from that passion and enthusiasm. Long may it continue. Many thanks to all!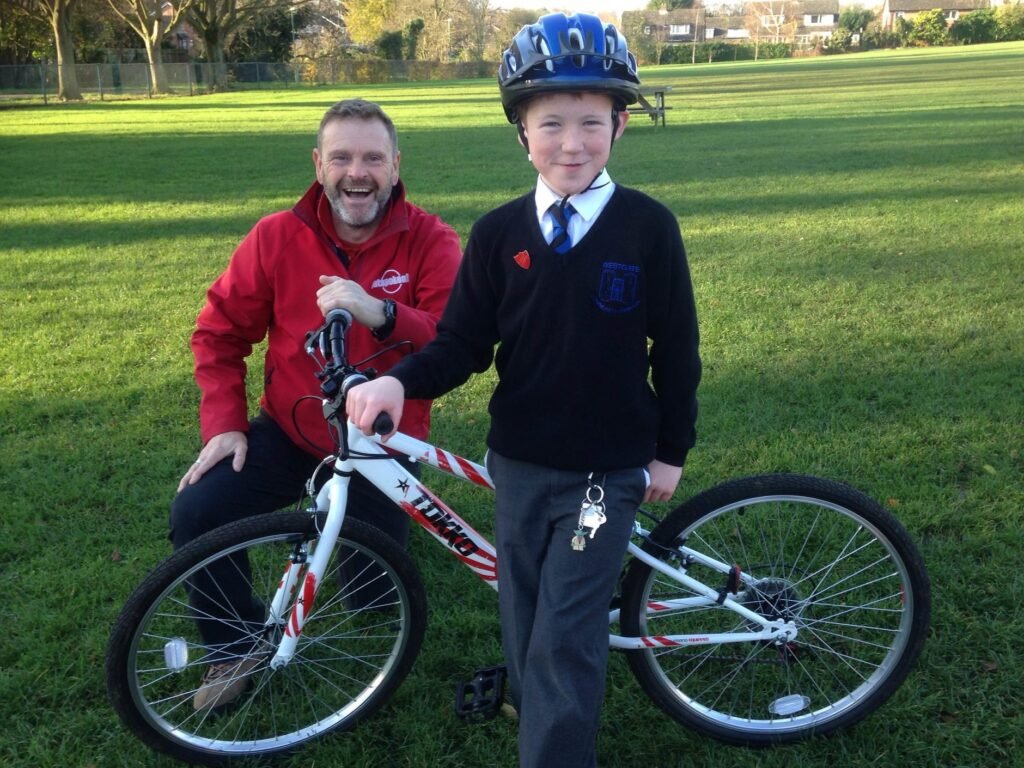 Specifically, my proudest moment was teaching a deaf child to ride for the first time in Bury St Edmunds. For many years, his parents had tried to help him ride independently but without success. He was struggling to push and glide and his parents had thought that he would never be able to ride. Fortunately, I was delivering a whole school cycling project in his school, including free learn to ride sessions. After two sessions, he was riding his bike without help. The best moment was when his mother came up to me after school and ask how he got on that day. At that moment, he cycled up from behind her and rode passed her. His mother began cycling with tears of joy!
The most rewarding thing about the role is empowering riders to ride in all situations and ultimately pass that confidence on, and inspire others to do the same. The more cyclists riding on our roads and sharing that road space means better roads, better infrastructure and a greener, cleaner environment. Better for all cyclists and non-cyclists!
If anyone is thinking of becoming an instructor, I would say absolutely do it and give it your all. You won't regret it!"
Congratulation Steve on a decade of enthusing more people to cycle. You embody everything a Bikeability Provider could wish for from an instructor. We hope you continue to enjoy passing on your love of cycling to more people!