Congratulations to Kings Lynn instructor Rob who won the 'Triumph Over Adversity' award in the national Bikeability awards 2021.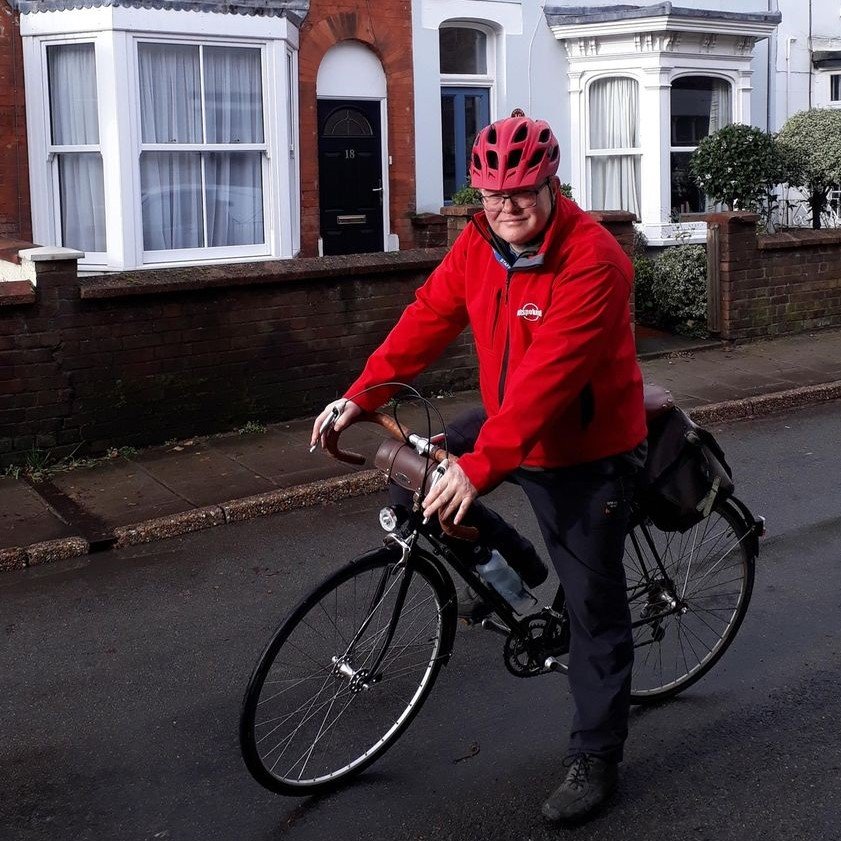 Rob's story is an inspiration to us all. Having initially caught and recovered from Covid-19 in March 2020, he suffered a serious heart attack on 6th August 2020. Thankfully, his wife was on hand to ring 999 and gave him CPR until the paramedics turned up. Rob was airlifted to hospital where they fitted two stents. 
Rob doesn't remember the event or the weeks before but recalls waking up thinking he had been in an accident as his chest hurt so much from 3 broken ribs caused by the CPR. His first concern was whether his bike was ok!
Rob said he suffered from mental turmoil. Walking across the ward was a massive effort and he was concerned he wouldn't be able to continue with his hobbies like hill walk and cycling, as well as having to give up Bikeability, the job he loves. However, he commented that he "wasn't ready for a life on the sofa watching daytime telly" and after speaking to the consultant, felt determined to do these activities again, despite his limitations.
After a month of recuperation and gentle walks, Rob attempted to get back on a bike and managed a mile circuit. Although this was a short ride, he says this was a game changer in his mind and enthused him to build an E-Bike out of an older tourer. This enabled him to get back riding gently which he credits with helping him feel like his old self again. This feeling motivated him to gradually build up his cycling mileage and eventually be fit enough to return to work.
Rob remembers his first Bikeability course back fondly. Whilst feeling tired delivering, he said he had an overwhelming sense of relief that he could still do the job he loves. This was made special by seeing the progression and enjoyment the pupils had on the course.
Rob still faces ongoing challenges. He now uses his E-Bike predominately to help power him on longer journeys to rural communities throughout Cambridgeshire, Lincolnshire and Norfolk. He also has brought a Brompton to make it easier to combine cycling with public transport and never uses a car to get to courses. After a career working on the railways, Rob is a big believer in combining cycling with public transport to help tackle climate change and improve people's health and wellbeing.
Rob says he feels the cold and tires more easily which means he must pace himself. However, he says this has been made easier with the support of his fellow instructors, many of whom have become firm friends and have help him overcome these challenges.
Rob says:
"I absolutely love my job! I feel that Bikeability is about so much more than cycling. I love seeing kids becoming confident to take their place on the roads, realising that they're not just 'kids on bikes' but people with equal status to any other road user, whatever their vehicle or social status. It's fantastic to see the riders buzzing after a session and find it infectious!"
Since his heart attack, Rob has trained 596 pupils from 37 schools across all Bikeability Levels plus various one-to-one training sessions. Throughout all his courses, he has been a positive role model to pupils, demonstrating that cycling is possible as an everyday, normal form of transport.
How Rob has approached and tackled the challenges he has faced is an inspiration to us all. He has used his love of cycling and determination to enthuse others to cycle to help him recover and return to doing the things he loves. Overcoming this adversity has serve to further underline that Rob is exactly the type of instructor you want to inspire the next generation of cyclists!
Congratulations Rob on your extremely well deserved success! It is a pleasure working with someone which such a determined, hardworking and positive attitude to life and cycling.